The First-Time RV Owner's Guide to Storage
There can be quite a learning curve when you purchase your first RV, and learning how to maneuver it is only half the battle. Consider joining a club or meet-up for RV enthusiasts to pick the brains of experienced RV travelers. Pay close attention to any advice you get on RV storage , as properly winterizing your vehicle is crucial for keeping it in like-new condition.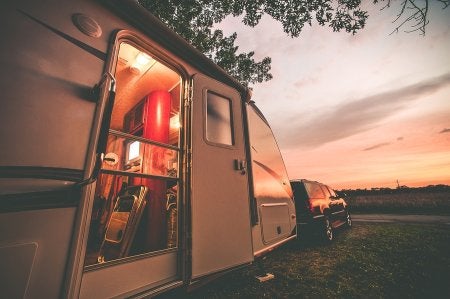 Turn off all appliances.
Safe RV storage requires that all LP gas appliances be turned off. You should also shut off the main gas supply valve, and take off the fuse for the LP gas leak detector. Prevent insects from nesting in these areas by covering up the water heater, furnace, and refrigerator vents. Unplug all appliances, and turn off the main breaker. Don't forget to check in the fridge! Remove all items, and defrost the freezer. Keep the fridge and freezer doors open while the RV is in storage.
Keep the batteries in good condition.
Always remove the negative terminal of the battery first. If there's any corrosion, you can use a mixture of baking soda and water to clean the batteries. After placing the batteries in storage, revisit them every month. Take a battery charger with you, and recharge them if they're at 80% power or less.
Prevent water damage during long-term vehicle storage.
Moisture damage is every RV owner's enemy . First, give your RV a good scrub, and then check all of the rubber seals, caulking, and silicon seams. Repair or replace anything that looks damaged. Next, consider installing vent covers on the roof vents, if your RV currently lacks them. With special vent covers, you can leave each of the roof vents open during long-term storage to allow for air circulation without risking water damage. This can prevent musty odors from building up.
Outdoor and covered RV storage in Rancho Cucamonga is available from POUCH Self Storage. We offer flexible payment plans and unbeatable rental terms for our vehicle storage options. You can reach us at (800) 378-4598 if you have any questions.