Business Storage in Orange County
The cost of commercial property can be high, putting office space—and storage—at a premium. Storage units offer the controlled, convenient space you need to store equipment, documents, or packages. If you require additional storage or workspace in the Orange County area, POUCH Self Storage can help your business succeed with our secure business storage and self storage in Fountain Valley and San Juan Capistrano.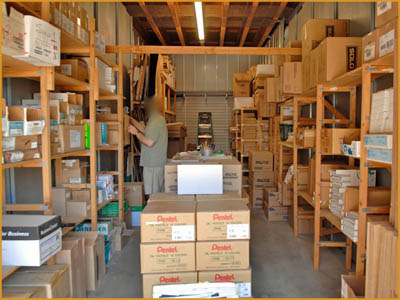 How Business Storage Benefits You
Business storage is an excellent solution for small and large businesses alike, offering flexibility, security, and convenience.
A business space that is cluttered gives clients a poor impression of your business. Clutter appears unprofessional, even if it is organized—you can easily free up space in your office for a more open, inviting, and professional environment by moving excess items into storage.
A cluttered workplace is not only unappealing, it can be dangerous as well. Utilizing business storage solutions means keeping your workspaces clear of tripping or falling hazards to protect your clients, your employees, and your equipment.
Business storage offers added security that may not be available at your physical office location. Storage facilities provide a high level of security and are often manned after normal business hours. Furthermore, climate controlled storage options ensure documents will remain intact and safe from accidents or natural disasters that could affect your office.
Maximizing Your Business Storage Space
Getting the most from your business storage space means understanding how you can make it work for you. Regardless of the type and size of your business, your storage space holds numerous possibilities. You can use your business storage facilities for
excess and new inventory that is either out of season or not yet ready to display for retail sale.
special items such as sale or event signage, display tables, mannequins, audiovisual equipment, convention booths, shipping and transportation containers, or holiday decorations.
large equipment that isn't needed on a daily basis; you can even opt to turn your business storage space into additional workspace for added convenience when this equipment is needed.
business furniture and electronics that aren't currently needed, such as extra desks, chairs, reception area furnishings, or even phones and computers.
backup files or paper copies of documents you now maintain as electronic documents for space-saving purposes.
POUCH Self Storage has you covered with business storage and self storage, including larger storage units, to serve your every need in Fountain Valley and San Juan Capistrano. You can reach us today by calling (800) 378-4598 for pricing or to book one of our moving trucks.