What Size Storage Unit is Right for You?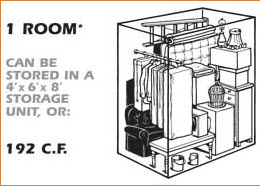 Do you find that you have a lot of stuff in your house or office that you need to keep, but don't require access to on a daily basis? If so, it may be time to consider renting a self-storage unit. Doing so, you'll clear up extra room in your house without having to sacrifice your belongings. When you're looking for a storage unit, you'll need to determine how much space you need. Make a list of the items you're going to store and start to think about how you can organize them for efficient use of space. Typically, one room's worth of furniture, accessories, and clothing can be stored in a unit that measures 4'x6'x8'. If you are storing an entire apartment, house, or office worth of belongings, you'll need a larger space. To help you determine the best size storage unit, use our Storage Calculator by clicking here, http://www.pouchselfstorage.com/storage_unit_calculator
Visit POUCH Self Storage & RV in Southern California for a look at the various sizes of storage units we offer. You'll find a storage space that's perfect for your belongings. Call us at (888) 258-9626 to experience the outstanding service we provide that has made us the top choice for self-storage since 1979.