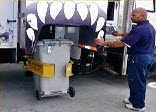 Pouch offers On-Site Shredding in both Southern California and New Jersey.
Remember POUCH Secure Paper Shredding Services when you need:
To safely destroy obsolete records/documents
To protect family and business from identity theft
To have data DVD's, CD's, floppy disks or recording tape shredded
To destroy Documents securely at all Pouch locations
Fast and Secure Shredding takes less than one (1) minute per 50 pounds.
Step One: Deposit
I simply deposit my documents in the locked Pouch Shred Bin.
Step Two: On-Site Storage
The locked Pouch Shred Bin is stored in a locked self storage unit, until my documents are shredded.
Step Three: Shredding
The contents of the Pouch Shred Bin are fed into the Mobile Shredding Truck right here at the Storage facility. The shredding process is observed on a monitor.
Step Four: Disposal
The Mobile Shredding Truck takes my shredded documents to a paper mill for recycling.