Taking Your Boat Out of Storage
When the temperatures get warmer and it's time to take your boat out of storage for the season, what should you do to make sure you're ready to hit the water? Hopefully, when you placed your boat in storage , you prepared it for its downtime, so there should be only general maintenance standing between you and a day on the water. Follow these steps to get ready for getting the most enjoyment possible out of your boat.
Clean Your Boat Thoroughly
Your boat was likely clean when you put it into storage, but you will still need to clean it when you get it out, to remove any dirt and debris that have built up. As you clean, inspect the parts of your boat and make any minor repairs that may be necessary. Ensuring that the boat is clean and minor issues are fixed before you get out on the water will help you avoid bigger issues in the future. Check the winches, pumps, tie-down cleats, and other parts of the boat. Consider having your motor professionally inspected before you start boating for the season.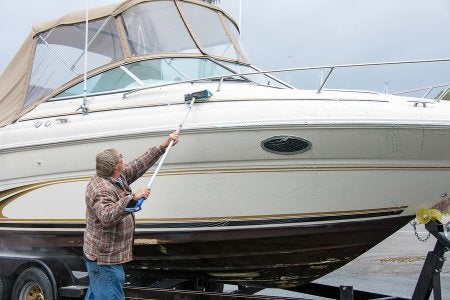 Restock Your Safety Equipment
The worst time to find out that you don't have the safety equipment that you need is when you're on the water. Now is the time to check things like life vests and safety rafts and replace them as needed. Check your flares for signs of water damage and other issues, and replace them if you think they could have been compromised. Make sure that your fire extinguisher has not expired or isn't set to expire during the season. If it is, replace it.
Look for Fuel System Damage
Carefully look for any signs of damage to your fuel system, including worn hoses or corrosion around connection points or on the battery. Make sure there isn't evidence of leaks. If you see any fuel system damage, get repairs done before you take your boat out to cut the risk of a fire or getting stranded.
You can count on your boat being safe in the off-season when you choose POUCH Self Storage for your storage needs . Find out about all of our storage units in Lake Forest by contacting us at (800) 378-4598.