Examining the Business Benefits of Document Shredding
The idea of a paperless office is an enviable one, but in reality, it's hard to achieve. Businesses will always have to deal with reams of printed materials. Many of those printed documents will contain sensitive information, like customer data or financial information. Protect your business and your customers by signing up for secure, onsite document shredding .
Security and Peace of Mind
The No. 1 benefit of business document shredding is security. You and your customers can enjoy peace of mind knowing sensitive information won't fall into the wrong hands. After all, identity theft is among the most common white collar crimes, and it's growing at an alarming rate. With an onsite document shredding service, you won't have to worry about criminals stealing information that will cost your customers and ruin your business' reputation.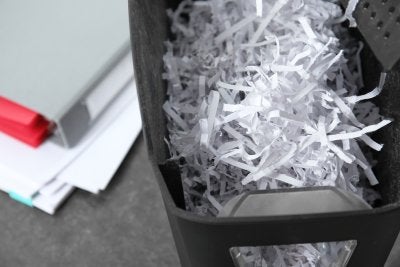 Convenience and Affordability
Running a business requires long hours at the office. It's hard work to keep track of everything that needs to be done. And no matter how much revenue your business brings in, overhead is always a consideration when making business decisions. Onsite document shredding won't require any extra work on your part, and it's very affordable. All you'll have to do is place documents to be shredded in the locked storage bin to await destruction.
Eco-Friendly Disposal
It's technically possible to recycle non-shredded documents that contain sensitive information, but doing so wouldn't be safe. There's a greater risk that identity thieves will get their hands on it. When you choose onsite document shredding, your safely destroyed documents can be brought to a recycling facility. You'll be doing your part to help make the Earth a little greener.
State and Federal Compliance
Depending on what type of business you have, you may be subject to multiple state and federal regulations regarding document retention and destruction. Law offices and healthcare clinics are just a couple of examples. Professional document shredding will help your business stay in compliance with document destruction requirements.
Onsite document shredding is available at POUCH Self Storage , along with the secure shredding of data DVDs, CDs, recording tape, and floppy disks. For storage options in Lake Forest and San Juan, call our office at (800) 378-4598.
Popular Posts
Sorry. No data so far.