Organizing your Home Office to Make Working from Home Easier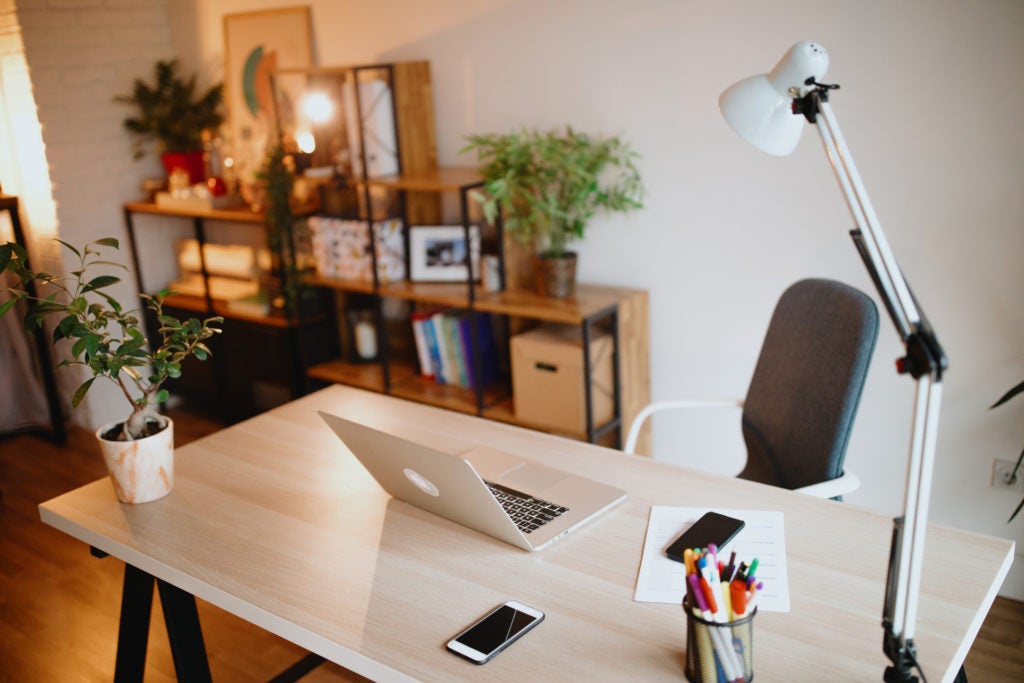 One result of the COVID-19 pandemic is that many people currently from home. Some people aren't used to working from home, while others who usually work remotely are unaccustomed to doing so with their roommates or family sharing their space. Staying organized can help make everything a little easier.
When You Already Have a Home Office
If you've already got dedicated office space at your house, you're ahead of the game. Organizing it and keeping it that way should just take a few simple steps.
Declutter. If you don't know where to start, choose three things to throw away. Do you have pens that don't work? Outdated periodicals? Knick knacks that have outlived their usefulness? Get rid of the things standing in the way of your productivity.
Clean out your files. Start with one filing drawer, weeding out anything unnecessary or outdated. Once you've sorted them, decide how you want to organize them. You might put them in alphabetical order, sort them numerically, or color-code them, but whichever system you choose, make sure it's one that makes sense to you.
Tidy your desk. Start with the drawers, and if that seems too daunting, start with just one. Rid if of anything unnecessary and fit it with an organizing tray to keep its contents in line in the future. Moving on to the desktop, clear it completely, even moving electronics elsewhere, then clean it and vacuum around it. Sort through everything that had been on the desktop, and only put back the things with purpose. Commit to keeping it pristine for at least a week.
Set yourself up for success. Organizing your office won't any good if you don't have a plan to keep it that way. Establish a system, with an inbox for assignments, bills, letters, and anything else on your to-do list, a file rack for current projects, a trash can, recycling bin and shredder, and a filing cabinet. Make sure your office has plenty of storage, perhaps using bookshelves or cubbies with bins and baskets. Don't forget to make the most of vertical space as well, utilizing whiteboards, bulletin boards, file systems, and shelving.
Organizing Yourself to Work from Home
Sometimes it's not about the space as much as it is the mindset. Use these tips to pull yourself together and get ready to work.
Design a routine. Get dressed every morning, and keep set business hours. Find ways to mentally transition in and out of work. If you usually listen to a podcast on the way to work, for instance, keep this routine, simply listening to it as you get ready to start your day.
Create a dedicated office space. You don't have to have a separate room, but you need an area that's entirely for work, to put you in the right frame of mind.
Build flexibility into your schedule. Take breaks when you need them, perhaps taking a walk outside or moving around. Let yourself off the hook from time to time, especially if you aren't feeling well or have a family member who needs you more than usual. That being said, be careful not to let distractions cause too many interruptions in your day, and set a timer when you take a break to keep yourself on track.
Take care of yourself. Be mindful of your body, sitting in a supportive chair, and using good posture to keep your neck and back aligned. Communicate with your coworkers, and be aware that most people are dealing with unusual situations right now. Pay attention to your mental health, and don't forget to have a social life, even if it's done virtually.
When There's No Room for an Office
Even if you don't have a home office, you can find a way to carve out a space that will work for you. You may have to get creative, perhaps setting up shop at the end of a hallway or in a corner of a room, but ultimately you probably don't need much space. A good chair is non-negotiable, but many things can double as a desk, including shelves, a vanity, or even an armoire. In fact, during the current situation, many people have gotten creative, using things as varied as a ladder, an ironing board, and a highchair as desks. Make sure to incorporate storage into your workspace.
If You Have to Share Your Space
When more than one person is working from home, remember to be considerate of each other. Be mindful of your noise-level and courteous of how you share your common space. If you're having trouble working at the same time, consider implementing a schedule so that you can use the space at different times. Remember, communication is important when everyone needs to get things done.
Pouch Self Storage has been operating mini-storage facilities since 1979 and is committed to keeping our clients' belongings safe. Founded by John Yelland, who hails from Australia, Pouch Self Storage is named in honor of the kangaroo's pouch- nature's safe and secure storage spot. At our nine Southern California facilities, you'll find state-of-the-art computer monitoring systems that allow our self-storage managers to monitor the opening and closing of every storage unit door, 24 hours a day. Currently, we're abiding by CDC recommendations and implementing social distancing, but you can still reach us by calling (800) 378-4598 or contacting us through our website.