Save Money on Moving Day with Our "We Move You Free" Program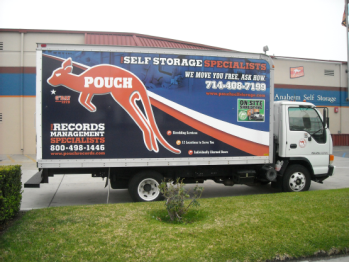 If you are looking for self storage in Orange, Los Angeles or San Bernardino County, be sure to check out the great services that POUCH Self Storage has to offer. When you rent one of our storage units, you will be able to take advantage of our "We Move You Free" program. With the "We Move You Free" program, you will receive a FREE truck move, which includes; Driver, Dolly, Gas, Insurance, and so much more (Some restrictions apply). Our driver will follow you to your home or office, wait as your movers pack your items in our truck and drive them to your POUCH Self Storage unit facility This great program saves you money and allows you to take advantage of the many services we offer.
To make your moving experience "As Easy As It Should Be" contact a POUCH Self Storage Specialist at (800) 378-4598, or visit us on the web at www.pouchselfstorage.com .