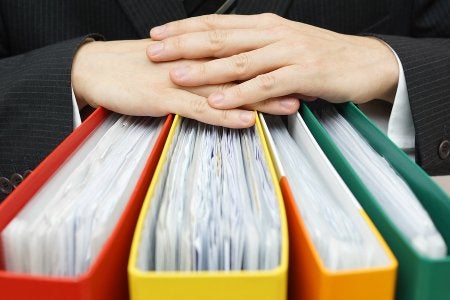 Do you have a stack of important paperwork sitting in your home or office that needs to be organized? It can be difficult to keep up with records management, especially when you have so many other things going on in your life. To get your problem under control, you should find an organizational system that works for you and then use self storage in Fullerton to keep your important documents safe. Here are tips for organizing and storing your documents.
Keep any documents that are difficult to replace in a fireproof safe at home.
There are certain documents that you simply cannot afford to lose. For example, your birth certificate, Social Security card, and will are all examples of documents that you should have on hand with you at all times. These documents can be placed in a locked safe and kept at home. You should not take them to self storage units because you will need to access them often.
Place tax returns in sturdy plastic containers and keep them inside climate controlled storage.
You should maintain your tax records for seven years after filing them with the IRS. The problem, of course, is that these tax records can take up a lot of space in your home or business. For that reason, you can take care of your tax records management by organizing important tax forms by year , placing them into plastic bins, and then using self storage units to store them.
Create categories for your other important documents and keep only what you need.
Over time, you will likely accumulate other important documents, like warranty information, payment records, and more, that you will want to hang on to for as long as you need them. This paperwork can be stored inside of a filing cabinet once it has been organized. Go through it occasionally to see what you should keep and what you can toss.
POUCH Self Storage offers jumbo storage units for individuals and businesses looking to store important items. You can find out more about our self storage units by contacting us at (800) 378-4598.
Packing fragile items during a move can be tricky, especially if you are trying to prepare to put them into storage units. The last thing you want to do is pack up a bunch of items and then discover that they were broken during the moving process. To avoid this, you should use the right packing supplies to move your personal possessions into a new home or self storage in Orange County.
Watch this video to find some tips for packing fragile items during a move. From using plenty of bubble wrap before you seal up a box to using packing supplies that are durable enough to withstand a move, you should follow these guidelines in order to prevent items from getting damaged.
Do you need help obtaining storage units? Call POUCH Self Storage at (800) 378-4598 to hear about the specials that we currently have on self storage units .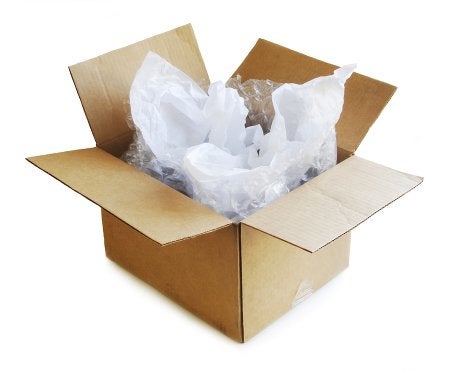 When you are preparing to move your belongings into a new home or storage units, there are packing supplies you will need to do it successfully. From boxes for moving in Anaheim to tape and scissors, you should be fully prepared before you do anything. Check out some of the packing supplies you will need to make your move the right way.
Moving Boxes
While you might be tempted to find a bunch of free boxes to use for moving purposes, you should invest in quality moving boxes that will get the job done. The last thing you want to do is pack your things into boxes that will break right in the middle of your move. Sturdy moving boxes are also ideal for packing away in storage units.
Packing Tape
Quality moving boxes will keep your things safe, but they will need to be sealed shut with packing tape to make sure they don't bust open when you are carrying them. Packing tape will also keep your items secure and prevent anyone from gaining access to them.
Packing Paper and Bubble Wrap
Chances are, you have many items that could potentially break during a move if they are loose inside of your packing boxes. You can stop this from happening by adding packing paper or bubble wrap to boxes that aren't completely full.
Labels and Markers
Once you arrive at your final destination, you will want to know what is inside each of your moving boxes. Make this easier by labeling them clearly and by keeping boxes with similar items in the same general area. This is an essential step if you are going to be putting boxes into storage units.
Box Cutters and Scissors
Opening your boxes and removing your belongings from them will be a real chore if you don't have something that can cut through your packing tape. Keep box cutters or scissors handy throughout your move.
POUCH Self Storage specializes in providing people with storage units. You can call us at (800) 378-4598 to reserve one for yourself before your next move.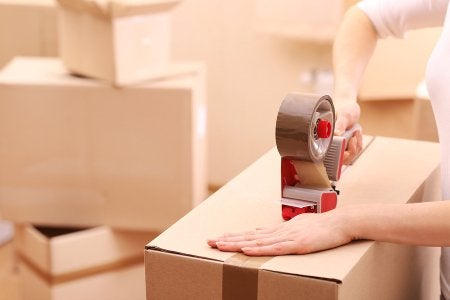 Renting storage units is an excellent way to store your items without wasting space in your homes or office. However, in order to make the most of your self storage space in Orange, Los Angeles and San Bernardino County, you need to come up with a plan for how you're going to arrange your items inside of your self storage units. Otherwise, there's a good chance that you'll have trouble finding items you need quickly and will only end up doing some serious re-organizing as a result.
Before you put anything into a self storage unit, make sure the unit is big enough to house all of your belongings. Then decide which boxes or items you won't need as often as others and designate space towards the back of the unit for them. You should also make sure that all of your things are packed properly, using quality packing supplies so that nothing will get damaged as you move into the unit.
POUCH Self Storage has storage units of all shapes and sizes. Call us at (800) 378-4598 or visit us at www.pouchselfstorage.com to discover how climate controlled storage can benefit you and to get information on other services we offer.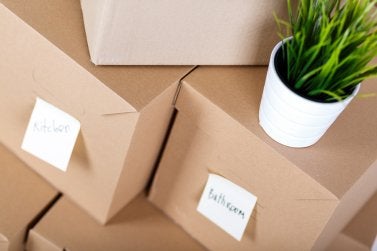 Moving can be hard work. Fortunately, with the right planning it can go smoothly. If you're getting ready to move extra belongings into your new home, office or self storage unit in Orange, San Bernardino or Los Angeles County, knowing how many boxes you will need can help ease the moving process.
Having the right amount of packing supplies can be helpful when moving your things into a new home, office, or storage unit. To estimate the number of boxes you will need, take into account the size of your current space and the amount of belongings each person owns. Judging how many boxes you might need to pack a room, such as the bathroom, can be easier than judging how many boxes each person may need. Observing how much you will move from each room will help you correctly estimate the number of boxes you will need for your move.
If you are looking to move your items into a storage unit , contact a Self Storage Specialist at POUCH Self Storage at by calling (800) 378-4598, or visiting us online. We have a wide variety of packing supplies and storage units to choose from. We look forward to hearing from you!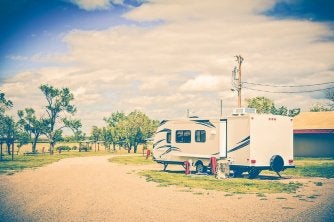 Driving across the country in your RV visiting great destinations is a great way to see America. Although most people would love to vacation like this year-round, it is not always possible. At some point your RV will have to be packed up and stored away in RV storage in Orange County , Los Angles County and San Bernardino County. Keeping your RV safe when it is not in use is important to ensure you and your family can head out on the road again. Continue reading to know how to properly store your RV so you can enjoy your next vacation.
The Don'ts of RV Storage
Keeping your RV safe is the key to storing your RV properly. Unfortunately, many RV owners are storing their RVs in ways that can cause them to be broken into or harmed. Storing your RV in an open area near one's home is not good for safety, as it is still susceptible to break-ins. Also, when storing your RV it is important you don't leave it uncovered.
The Do's of RV Storage
Now that you know what not to do when storing your RV, here are some great ways to keep your RV in tip-top shape while storing it. Storing in a storage facility is a wonderful way to ensure its safety. Plus, your neighbors will be happy they do not have to look at it all the time. Also, be sure to unplug all of your appliances so your battery will be fully charged when you get ready to go on your next trip. Finally, investing in a cover is a great way to keep your RV safe from daily elements that can cause wear and tear on your vehicle.
If you are looking to store your RV safely, call POUCH Self Storage and speak to one of our Self Storage Specialists at (800) 378-4598. We have been storing RVs for more than 30 years. Keeping your property safe is a top priority so you and your family can continue to enjoy wonderful vacations on the road.
Now that the housing market is back in full swing, it is the perfect time to sell your home. Getting your home clean and free of clutter is important for showing to potential buyers. Working with a storage facility to get self-storage near Orange, Los Angeles and San Bernardino Counties can help with this process. Watch this video to learn other ways to get your home ready to sell.
Keeping your home free of clutter will make your home more inviting for potential buyers. Hiring a maid service to clean and remove any items that may clutter your home is a wonderful way to get ready to sell. People overlook such as pictures on the walls, toys, or items that collect dust. Although these items may have sentimental value for you, they can get in the way of showing your house at its very best.
If you are in need of storing sentimental, office or home items while showing your home to potential buyers, call POUCH Self Storage to speak to a Self Storage Specialist, at (800) 378-4598. We have been keeping our customers belongings safe for more than 30 years.
Last week our friendly neighborhood police officers were here. They served a search warrant to one of our tenants. They also had with them their K9 police dogs. One officer said, I was here before and I know that pets are not allowed here. But just to let you know they, pointing at the K9's are officers too. I smiled and answered, I'm fully aware of that. They were here for about fifteen minutes and said they did not find anything they're looking for. One tenant was here at the same time and heard the officer said they found nothing. He said, I liked it here, I feel safe when the police check your facility and know everything is fine.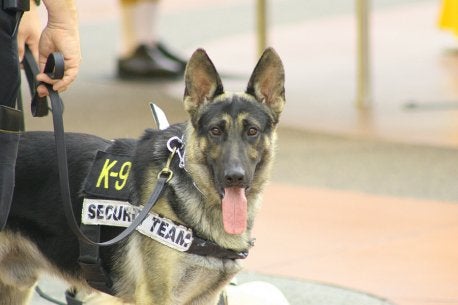 When I arrived one morning a tenant was already parked ahead of me. I parked next to him but stayed in my car. I saw him going back and forth trying to open the office door. So finally I went out from my car and told him we open at 7:00 AM.
He also said that he was here the same time yesterday. I told him we're closed yesterday for the Memorial Day and pointed to him the door sign stating we're closed. I also showed him the big sign for the access hours. at the entry gate
From being upset earlier he now looked embarrassed so I asked him if he read all the posted signs. He said he lost his reading glasses and can't read at close range. I told him next time just to call if he's not sure. He just looked at me again as if he never heard what I said. Then smiling he said, he has a hard time hearing as well.
He apologized for being early and thanked me for being here on time to help him out.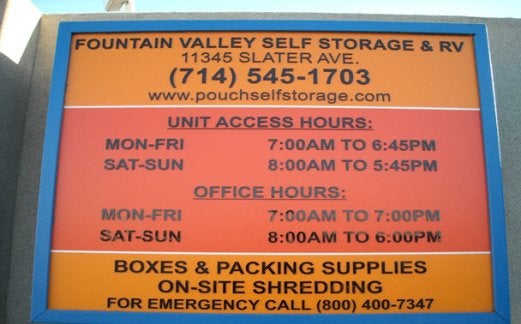 Here at Fountain Valley Self Storage, we have unique tenants. Last week one of our tenants did some maintenance work on their unit and cell site. Little did they know that there's also another tenant staying on their cell site. So the temporary tenants were forced to leave and had to find another place to stay until the main tenant has completed their maintenance. But sure enough they found a secure place to temporarily stay for a while.